Complete Pest Management In Fobes Hill, WA
Located in Snohomish County, the community of Fobes Hill is a residential neighborhood located northwest of Snohomish and located only miles from both Everett and Seattle. The area is also home to an eclectic selection of locally-owned businesses, and with many parks and trails within close proximity, adventure is never far away. Fobes Hill is, however, host to a significant rainy season, which spans almost half of the year from May through October. While temperatures are typically moderate for the entire year, Fobes Hill is uniquely vulnerable to pest problems at any turn. That's why the professionals at Guard Pest Control are committed to providing local homeowners with the safest and most reliable pest control around. Because we're a locally-owned business, we know the area like no one else, and we know how to work with environmental conditions in order to create and maintain a pest-free home for you. To learn more about how our professional pest control services can benefit you, contact us today.
Residential Pest Control In Fobes Hill, WA
Pest problems can be dangerous and damaging when they happen in your Fobes Hill home, and local conditions make your home a near-constant target for them. But with professional assistance from Guard Pest Control, that doesn't need to be the case. We provide homeowners with the safest, most reliable, and long-lasting residential pest control around due to our unwavering commitment to Integrated Pest Management methods. What these methods allow us to do is customize a treatment plan to suit your needs, limit chemical application, and monitor the efficacy of the treatments to yield maximum results. This protocol also allows us to be nimble and adjust treatments based on results and conditions. In addition to the one-time services that we offer, we provide customers with the following plans to maximize savings and protection:
Home Guard Protection Plan (Rodents): This bi-monthly service focuses on exterior bait stations to reduce pest pressure on the home. Homeowners with this plan will also receive a 15% discount on other pest services.

Home Guard Protection Plan (Insects/Arachnids): To keep some of the most prevalent household pests out, this offering utilizes safe bi-monthly services and provides affordable monthly billing.

Home Guard Protection Plan (Platinum): When you want the highest level of consistent coverage, this is the plan for you. With bi-monthly services that focus on perimeter protection from ants, spiders, and more, we will also be on-call for stinging insect nests and install exterior bait stations for rodents. Homeowners who choose this plan will receive a 20% discount on pests not covered in this plan like bed bugs, cockroaches, fleas, flies, and birds.
At Guard Pest Control, we look to provide you not only with the best treatments but also with the best service, which is why all of our technicians are fully licensed and background checked prior to employment. For more information on how you can benefit from our residential pest control services, contact us today.
All The Ways Cockroaches In Fobes Hill Are Harmful To Your Health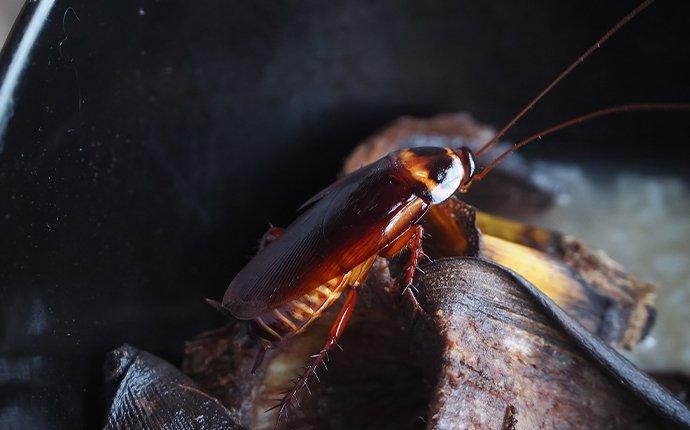 When cockroaches appear in your Fobes Hill home, they can be very detrimental to your health and the health of those around you. Some of the health risks that they pose are:
Salmonellosis

E. coli infections

Diarrhea

Vomiting

Other gastrointestinal distress

Streptococcus

Staphylococcus

Irritate allergies

Trigger asthma attacks

Increase in anxiety and stress
When cockroaches come to your home, don't try to handle them on your own. These pests are hard to crush because of their very hard exterior, tend to hide from humans, and reproduce rapidly. Additionally, the most commonly found species of cockroaches, the German cockroach, is actually growing immune to many readily available pesticides, so it's very likely that any over-the-counter treatments you purchase won't even work. For reliable cockroach control that you can trust, contact Guard Pest Control today.
A Helpful Guide To Keeping Fobes Hill Rodents Out Of Your Home
Rodents are one pest that Fobes Hill homeowners hope they never have to encounter. These pests spread illnesses like hantavirus, reproduce at alarmingly quick rates, and cause significant property damage that can even result in house fires. Some of the ways that you can make your home inhospitable to rodents are:
Fill the cracks and crevices in your home's foundation with materials like sheet metal, wire mesh, steel wool, and silicone-based caulk.

Trim back any overhanging tree branches, hedges, or shrubs.

Always keep your food and pantry items stored in airtight containers.

Maintain well-ventilated basements, attics, and crawl spaces.

If you notice leaky pipes, faucets, or bathtubs, fix them.

Keep your trash in a bin with a lid and take out the garbage routinely.

Clean your home regularly, paying special attention to spills and crumbs.
For professional rodent control that you can trust, contact Guard Pest Control today.
How To Get Rid Of Ants On Your Property In Fobes Hill
Making your Fobes Hill home unappealing to the area's #1 nuisance pest can feel like a full-time job. It doesn't take much to attract ants, as they typically enter homes looking for either moisture or food. These are two things that many homeowners give to ants freely and without even knowing it. So something as simple as forgetting to take out the trash or fix that leaking downspout is enough to attract ants and keep them around. That's why the best way to get rid of ants is with professional ant control from Guard Pest Control. Our sustainable techniques of elimination and prevention protect your home from the outside in. And with an emphasis on Integrated Pest Management and safe practices, we're able to keep ants away no matter the season. To learn more about how your home can benefit from our ant control solutions, contact us today.
Call For A Free Quote
Complete the form below to schedule your inspection with Guard Pest Control.