Complete Pest Management In Cathcart, WA
The community of Cathcart is nestled into Snohomish County and is located only 30 minutes north of Seattle. With scenic views of the Snohomish River and surrounded by natural beauty, Cathcart is known as a delightful place to live. The area itself is home to locally-owned businesses and good schools, making it an ideal location for both families and commuters. Local conditions are comfortable and mild throughout the year; however, from May through October, the area sees a considerable amount of rainfall. This climate makes Cathcart uniquely vulnerable to pest problems at any time of the year. That's why the professionals at Guard Pest Control are dedicated to keeping your home pest-free with Integrated Pest Management methods and bio-pesticides for the safest results possible. We uphold the highest standards, which is why when it comes to our hiring process, every technician on our team is background checked and drug tested. To learn more about how your home could benefit from professional pest control services, contact us today.
Residential Pest Control In Cathcart, WA
At Guard Pest Control, we believe that no home should be exposed to pest problems and the damage and danger they pose. That's why since our inception in 2013, we've been on a mission to provide the highest quality of pest control services with an unwavering commitment to your safety in the process. We follow the methods of Integrated Pest Management, which allow us to gain a comprehensive understanding of your property and treat it accordingly. This also means that we'll take into account the local environment and biological conditions in order to create your customized residential pest control program, and monitor the results carefully. What this also does is focuses not only on getting rid of pests but also on working to prevent new problems from occurring. In order to keep you fully protected, we provide the Home Guard Protection Plan (Rodents), Home Guard Protection Plan (Insects/Arachnids), and Home Guard Protection Plan (Platinum). We also provide one-time services for the home that simply wants to get rid of a present pest problem. For more information on how you can benefit from our residential pest control offerings, contact us today.
How Ant Infestations Start On Cathcart Properties
Ant infestations are a very common occurrence in Cathcart homes, as they're the #1 nuisance pest in homes across the county. They're primarily attracted to homes because of sweet or sugary foods. So if you've let the garbage pile up, forget to clean up a spill or some crumbs, or even leave food out that's uncovered, ants are never too far behind. They are also attracted to leaking pipes, downspouts, faucets, and even bathtubs, which is why it's so crucial to fix these issues when you notice them. The truth is that keeping ants out of your home can feel like a tall task because it doesn't take much to attract them and because they can gain access to your home through the smallest of cracks. That's why the most secure form of ant control around is with professional assistance from Guard Pest Control. Contact us today to learn more about keeping ants out of your home.
Bed Bug Identification Tips For Cathcart Residents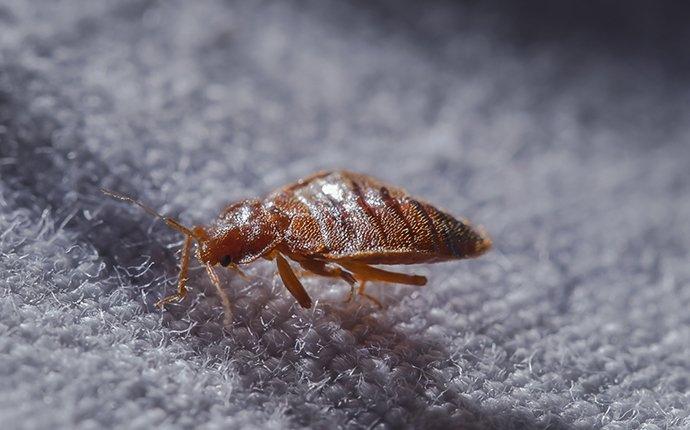 If you haven't experienced a bed bug infestation in your Cathcart home yet, then you might not be familiar with what they look like. However, in the event of a possible problem, you should know how to identify bed bugs. The adults are small, appleseed-shaped insects that have three sets of legs, a small set of antennae, and are brown in coloring. Before they've fed, bed bugs will have almost a translucent appearance; however, once they've had a blood meal, their coloring changes to more of a reddish-brown shade, they nearly double in length, and they become engorged overall. You can also usually spot bed bugs because of their location, which is very commonly either in your mattress or couch. In order to get rid of an infestation that may be brewing, the best thing you can do is enlist the help of Guard Pest Control for professional bed bug control services. For more information, contact us today.
Do Cockroaches In Cathcart Carry Diseases?
Cockroaches are a worthy opponent for Cathcart homeowners. They gain access to your property either through infested packaging, the sewer system, or by simply taking advantage of cracks in your home's foundation. And once they're inside your home, cockroaches can be very difficult to get rid of because they hide from humans, reproduce frequently, and the most commonly found species, the German cockroach, is growing immune to many over-the-counter pesticides. While in your home, cockroaches are capable of carrying and spreading the following pathogens and illnesses:
E. coli

Salmonella

Streptococcus

Staphylococcus

Diarrhea

Dysentery

Allergies

Asthma attacks

Other gastrointestinal distresses
At Guard Pest Control, we provide homeowners with cockroach control that is based in Integrated Pest Management, which means that our approach is safe and designed to handle seasonal conditions. For more information on how we can help keep your home cockroach-free, contact us today.
Call For A Free Quote
Complete the form below to schedule your inspection with Guard Pest Control.