Keeping Snohomish, WA Properties Free Of Rats & Mice
Rodents such as mice and rats have a long history of spreading disease, contaminating food, causing allergic reactions, damaging property, and bringing a number of other problems with them when they invade homes and businesses. With all the problems rodents can cause, the only thing worse than having a rodent infestation is trying to handle it on your own. If you have a rodent infestation on your hands, or are afraid you could in the future, don't go it alone: contact the rodent removal experts at Guard Pest Control for help. We have the knowledge, tools, and experience required to not only stop an active infestation in its tracks but also prevent new ones from happening in the future.
Need help removing rodents from your home, yard, or garden? Our Snohomish pest professionals can help eradicate rodents in your home and design a preventative plan to keep them out for good.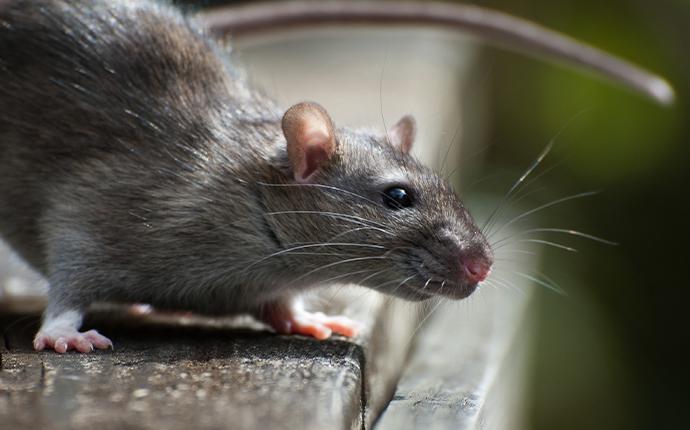 Our Rodent Control Process
The Pacific Northwest provides an ideal habitat for rodents. Rodent populations thrive near water sources, wooded areas, and dense brush. A recent study completed by Pest Control Technology showed that in ideal conditions, two rodents can reproduce up to 15,000 offspring in a year.
In addition to carrying diseases such as hantavirus and in recent (but rare) cases-the plague, rodents can quickly damage your home and property. Rodent activity will damage and destroy insulation and affect the air quality that circulates through your home. It is also not uncommon to see vehicles damaged from nesting mice who will chew through wiring.
Hobby farmers are often surprised to learn that their chicken, or other pet or farm animal, feed, and droppings will also attract and encourage heavy rodent activity.
Inspect
After scheduling an appointment, one of our technicians will visit your home, performing a thorough inspection of the property to determine the level of rodent activity present, the types of rodents you're dealing with, the access points they're using to get inside, and any damage done to your home crawl space. We will provide a report of our findings so that you can make informed decisions about a course of treatment. Your technician will provide you with a list of recommended rodent proofing and/or exclusion work that will need to be completed to ensure that mice and rats are prevented from future access.
Correct
The first step in eliminating rodent activity is capturing and removing any rodents living in your home. Your technician will place traps in areas that are safe and secure from children and/or family pets. Your technician will return to check those traps to ensure mice and other rodents are no longer active. Your technician will also complete any rodent proofing that you have approved.
Protect
When recommended rodent proofing has been completed, Guard Pest Control will guarantee the rodent activity for 60 days. If you experience any ongoing issues, our technician will return as often as needed to ensure the resolution of the initial rodent infestation.
Mice and rats are always on the hunt for resources including food, water, and shelter - resources your home provides in abundance. Their small, agile frames and flexible skeletons allow them to access your home through the smallest of entry points. A rat can enter your home through an entry point the size of a quarter, and a mouse through the size of a dime. If your home has any potential entry points, rodents will find them. The favorable conditions for rodents in Western Washington also mean that mice and rats are constantly applying a regular "pest pressure", searching for and creating access points into the favorable harborage of your home. For this reason, we strongly recommend maintaining exterior bait stations on the outside of your home to reduce that pest pressure and prevent heavy rodent populations from reentering your crawl space, attic, and home.
If you start finding droppings, urine, signs of gnawing, or even dead rodent bodies around your house, over-the-counter mouse traps probably won't be enough to fully eliminate the problem. In severe rodent infestations, you may be able to smell urine that is circulating into your home from your crawl space or attic.
Rodents breed quickly and get into the smallest nooks and crannies around your home. For ongoing protection for your home and property and optimal rodent control, your best bet is a good defense. Our professionally trained technicians will help you plan to keep them gone for good.
Our Home Guard Protection Plans can provide peace of mind and an integral piece in keeping your home safe from rodent infestations.
At Guard Pest Control, we have the knowledge, tools, and equipment to both eliminate any active rodent infestations in your home and prevent new ones from ever taking place. We believe home pest control service should not be another thing that "bugs" you. When calling our office, our customers will always reach a live and local representative who is trained and knowledgeable on some of your most common pest questions. If by chance we miss your call, we will call you back - usually within the hour. Appointments can be scheduled over the phone, via email, or online in your customer portal. Our customers are reminded of their appointments via email or text and billing is automatic as well in our encrypted software. After your appointment, you will receive an emailed summary of the work completed and treatments applied. Let us take pests OFF your to-do list.
When you contact Guard Pest Control for a residential rodent treatment, one of our licensed residential and commercial pest professionals in Snohomish will inspect your home, locate openings where rodents are getting inside, and create a barrier in these locations to prevent future invasions. Contact us today for more information about our rodent elimination services as well as the preventative solutions we provide to keep future infestation at bay and provide lasting peace of mind for you and your family.
Call For A Free Quote
Complete the form below to schedule your inspection with Guard Pest Control.